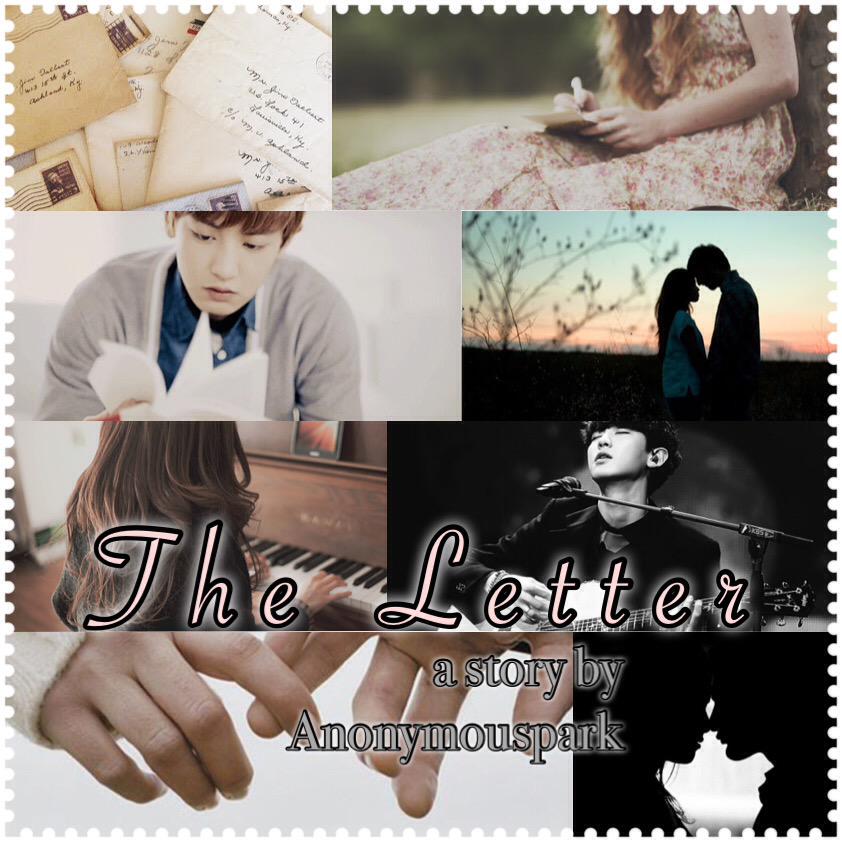 Title: The Letter – Author Anonymouspark – Lenght Ficlet – Disclaimer I just own the story, poster also belongs to me. Already posted here  – Genre Fluff (maybe), Sad – A/N  This story isn't based on Davichi's song
Cast:
Chanyeol EXO and OC
Previous story: 
1st letter l 2nd letter l 3rd Letter l There's No Letter To Be Read l 4th letter l Last Letter l Your Last Letter
Summary:
I want to write a last letter for you because I want to say good bye…
Sebulan sudah Sera menginap di rumah sakit. Selama sebulan Sera sudah menjalani pengobatan medis untuk penyakit yang ia derita. Selama sebulan itu pula orang tua Sera berharap anaknya bisa segera pulih. Memang tidak mudah bagi Sera yang mengidap penyakit yang bisa saja mengambil nyawanya tersebut sewaktu-waktu bisa pulih dalam waktu yang cepat. Tetapi hal tersebut tidak pernah membuat Sera untuk mundur dari pengobatannya.
Sera kembali sibuk dengan buku hariannya. Tidak banyak yang bisa Sera lakukan selama kondisi tubuhnya masih lemah. Tetapi satu hal yang tidak pernah Sera lewatkan setiap harinya. Yaitu menulis di buku harian. Sera menulis banyak hal. Bagaimana rasanya pertama kali ia menginap dalam jangka waktu yang sangat panjang di rumah sakit. Bagaimana reaksi obat yang ia terasa begitu menyiksa dirinya setiap ia melakukan pengobatan. Bagaimana setiap sekali satu minggu ia berkumpul dengan pasien yang juga mengidap kanker. Berbagi cerita dan saling menyemangati satu sama lain. Berbicara tentang semangat, Sera tidak pernah melupakan seorang Park Chanyeol sebagai penyemangatnya.
27 Januari 2015.
Sera ingat. Hari ini tepat satu bulan sejak surat terakhir yang ia tulis untuk Chanyeol. Mengingat hal seperti itu memang terdengar simpel. Tetapi bagi Sera tidak semudah itu. Karena sudah seperti suatu kebiasaan bagi Sera mengirim surat untuk Chanyeol. Tidak pernah ia berhenti mengirimi Chanyeol surat bahkan sejak lelaki itu baru saja memulai debutnya. Mungkin beberapa orang menganggap Sera terlalu fanatik dengan seorang Park Chanyeol.
Tidak. Sera mengidolakan Chanyeol dengan cara yang berbeda. Memang Sera selalu mengikuti perkembangan Chanyeol sejak lelaki itu memulai debutnya. Tetapi Sera tidak pernah memaksa diri untuk harus bertemu dengan Chanyeol. Sera tidak pernah memaksa dirinya harus bertatap muka dengan Chanyeol. Sera melihat Chanyeol sebagai inspirasinya. Pertama kali saat Sera melihat video Chanyeol memainkan lagu 'Rivers Flow in You', pada saat itu Sera mulai memutuskan untuk tetap fokus pada satu alat musik, yaitu piano. Tidak hanya itu, jika Sera memiliki waktu senggang, Sera selalu menyempatkan diri untuk menonton video lainnya. Salah satu video yang menunjukkan bagaimana seorang Park Chanyeol tidak pernah absen menyebut dirinya adalah 'Happy Virus', melihat senyum lebar yang tidak meninggalkan wajahnya selalu mendorong Sera untuk tetap positif terhadap apapun yang terjadi pada hidupnya. Termasuk hari ini.
Sera membalik halaman terakhir buku harian, meraih sehelai kertas yang biasa ia gunakan untuk menulis surat untuk Chanyeol, kemudian Sera kembali sibuk menulis surat.
27 Januari 2015
Dear Chanyeol,
***
Selama beberapa hari Chanyeol terlihat murung setelah membaca surat terakhir yang ia dapat dari Sera. Namun kesedihan Chanyeol tidak berlarut karena ia kembali sibuk dengan jadwal konser, jadwal siaran, dan jadwal latihan untuk persiapan album baru. Chanyeol berusaha melupakan isi surat tersebut dan menghindari surat masuk yang biasa ia baca setiap akhir bulan.
5 Februari 2015.
Memang sudah  sebulan lebih Chanyeol tidak pernah memeriksa surat-surat dari penggemar. Tetapi hari itu Chanyeol tidak bisa menahan dirinya untuk tidak  membaca tumpukan surat yang berada diatas meja. Detik berikutnya Chanyeol kembali sibuk dengan surat-surat yang ia terima. Beberapa surat penggemar  internasional yang selalu merasa tersiksa karena tidak bisa melihat penampilannya secara langsung. Bagaimana para penggemar mengekspresikan kekesalan mereka dengan cara yang lucu sukses membelah sebuah senyuman di wajah Chanyeol. Setelah beberapa surat ia baca, Chanyeol kembali mendapatkan surat dari pengirim yang sama. Dua surat dari penggemar spesialnya tersebut.
Dahi Chanyeol berkerut saat menerima dua surat dari Choi Sera. Dengan harapan bahwa ia akan mendapatkan kabar gembira hari itu, Chanyeol membuka surat pertama.
27 Januari 2015
Dear Chanyeol,
Next ficlet silahkan klik link ini: The Letter – I'll Leave
.
Hai~ aku kembali sama ficlet ini ya. Sebenarnya males tp karena tanggung dan banyak respon sm fanfic ini jadi aku post. Oke. Terimakasih yang sudah mengikuti cerita ini. See you! Xoxo~