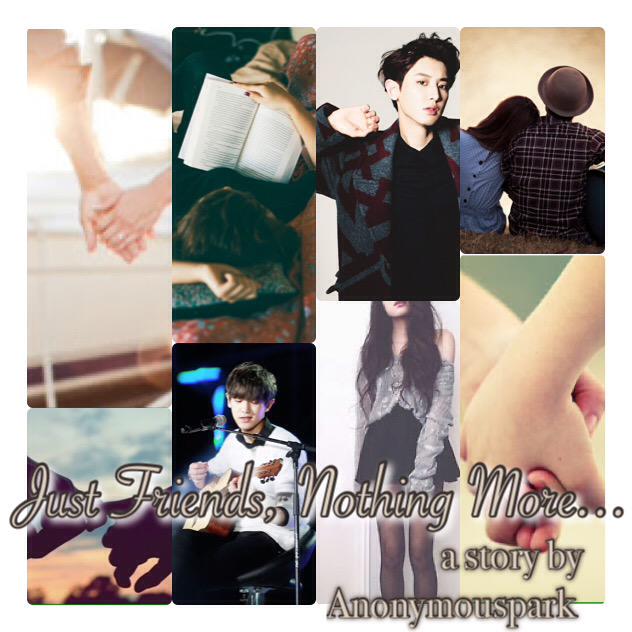 Title: Just Friends, Nothing More… – Author: Anonymouspark – Lenght: Chaptered – Disclaimer: I just own the story, poster also belongs to me. Already posted here  – Genre:  Friendship, Romance, Fluff, Slight Angst (maybe) – A/N:  Hope you  like it ♥
Cast:
Park Chanyeol and OC
Summary:
We're just friend, nothing more than that, right?
"Kita berteman dari kecil. Kita tumbuh bersama-sama. Kita saling mengenal sudah lebih dari 10 tahun. Persahabatan yang simpel. Hanya itu yang bisa aku jelaskan tentang hubungan ku dengan lelaki itu, Park Chanyeol…"
Choi Se Mi
"Kita memang sudah saling mengenal lebih dari 10 tahun. Aku selalu ada untuknya, begitu juga dia selalu ada untukku. Hingga suatu saat kita melakukan sebuah kebodohan…lupakan! Aku hanya sahabat bagi Se Mi. Begitupun sebaliknya."
Park Chanyeol
---
Mungkin hidup dengan latar keluarga yang serba berkecukupan terdengar sangat menyenangkan. Namun akan kah tetap menyenangkan jika memiliki segalanya tetapi tidak dengan kehadiran orang tua? Disaat orang lain memiliki teman saat makan malam. Merayakan ulang tahun dengan orang-orang sekitar. Mungkin tidak harus dengan orang lain tetapi cukup dengan kehadiran orang tua.
Itu semua tidak berlaku bagi Se Mi dan Chanyeol. Kesibukan orang tua mereka dimana Chanyeol dan Se Mi selalu ditinggal sendiri. Chanyeol –yang satu tahun lebih tua dari Se Mi- selalu meluangkan waktunya untuk Se Mi. Makan malam bersama bahkan merayakan ulang tahun bersama. Ketidakhadiran kedua orang tua mereka membuat mereka belajar, untuk mandiri dan tahu kepada siapa orang yang tepat dimana mereka akan besandar.
***
Choi Se Mi
Se Mi dengan ekspresi wajah yang ia miliki membuat orang selalu mengira bahwa dia adalah gadis yang dingin. Bisa dibilang Se Mi hanya memiliki beberapa teman, bukan berarti Se Mi tidak dianggap di sekolah. Se Mi bahkan memiliki jabatan sebagai Presiden Sekolah*. Mungkin Se Mi dilihat sebagai gadis dingin yang tidak peduli terhadap apapun, tetapi di kehidupannya Se Mi sangat peduli dengan lingkungan sekitar. Se Mi bisa dibilang bahwa dirinya adalah manusia terpintar di sekolahnya. Mengapa tidak? Nilai Se Mi yang selalu menghampiri sempurna itu mendorong beberapa perguruan tinggi untuk memberinya beberapa beasiswa. Tetapi Se Mi menolak beasiswa tersebut karena dia masih membutuhkan waktu untuk memilih tempat kemana dirinya akan melanjutkan pendidikannya. Kehidupan Se Mi yang terlihat hampir sempurna di mata orang lain itu pun tidak berbeda jauh dari wajahnya. Wajah cantik Se Mi yang selalu menampakkan ekspresi dingin, gadis itu memang memiliki banyak emosi yang tidak bisa ditebak dalam satu wajah.
Orang tua Se Mi yang selalu berpergian untuk bisnis, selalu meninggalkan Se Mi sendiri di rumah. Bisa dihitung bahwa waktu terlama orang tuanya menetap di rumah adalah 1,5 tahun. Se Mi tidak membenci kesibukan orang tuanya, tidak pula menyukai kesibukan orang tuanya. Hingga usia Se Mi memasuki 18 tahun, Se Mi kembali ingat bahwa hanya 3 kali ia pernah merayakan ulang tahun dengan orang tuanya. 6 kali natal yang pernah ia lalui bersama orang tuanya. Tidak lebih dari itu.
***
Park Chanyeol
Chanyeol memiliki kisah yang tidak berbeda jauh dengan Se Mi. Orang tua Chanyeol tidak hanya sibuk dengan bisnisnya saja melainkan orang tuanya itu memang sedang menjalankan bisnis mereka dengan orang tua Se Mi. Dia memiliki sisi dingin sama seperti Se Mi, tetapi disisi lain Chanyeol adalah lelaki yang manis, peduli dan lucu. Tidak banyak hal yang bisa mendeskripsikan seorang Park Chanyeol, bisa dibilang Chanyeol adalah Se Mi versi laki-laki. Hanya saja Chanyeol lebih bersemangat dibnading sahabatnya tersebut.
Hey! Sebelum evaluasi aku sempat nulis ini di hp dan baru salin ke laptop. Ide cerita ini datang begitu saja. Kalau ada respon, maka ff ini akan berlanjut, kalau tidak, it'll be delete soon. Aku mencoba update setiap hari, so hope you like it!
I think that's all. See ya!
H